Born from Force, a sporty version, tuned for extra JOY
When the Force was launched, it opened a new era. Paramotoring became easier, safer and much more enjoyable. APCO was a pioneer in launching well balanced reflex wing where performance was at the top, but nothing compromised in terms of safety, flight behaviour and friendly nature of the wing. The Force continues to be part of our current range.
But following pilot's feedback, we felt that the time was right also for different interpretation of perfect package a pilot desires. Crisp, rigid wing with direct, immediate handling, cutting the air effortlessly and turning on a dime with great precision – that's what is needed.
The answer is Apco FORCE SP. Born from Force, a sporty version, tuned for extra joy. Same amazing launch and stability, same well built, robust chute, same highly recognisable color design dressed in new colors. On top of this, the FORCE SP package generates excitement, adrenaline rush and happy smiles for anyone who wants a "spiced up" Force. The design brief for FORCE SP was injecting NRG genes into the Force to create a new blend – Force with NRG flavor(NRG is our latest, extremely successful slalom comp. wing)
Force and FORCE SP will continue to be offered side by side. There will always be different pilots, different tastes and different flying philosophy and now we can cater to all – the choice is yours.
FORCE SP is ready in 2 sizes – S and M. The Large size will follow. FORCE SP shares the certification with Force. Additional in-house test flight sequence (as per LTF 23/05 Part 4.3 paramotor certification requirements) was successfully completed.
FORCE SP uses only 3 rows of bottom lines, drastically reducing overall line length and drag. Unsheathed Dyneema and Vectran lines further minimalize the drag. For bottom gallery sheathed lines are used.The load test will be redone to confirm the new line configuration..
Force and FORCE SP are purpose designed wings, but for different styles of flying. The FORCE SP is designed for agility, combined with stability and performance, for fast cruising over long distances while retaining comfortable, relaxing feel with no need for pilot intervention. The Force is a classic blend of performance, aimed at Cross Country flying , handling rough air with minimum pilot input. Both are exceptionally easy to launch and land, allowing for equally low take off speed and faultless flare. The legendary stability of Force and its ability to independently float overhead at launch are also passed onto FORCE SP
Launch – surprisingly easy ( better than Thrust) with extremely low take off speed

Landing – nice and soft even when brakes are half way down with more space for good flare – piece of cake!!

Acceleration – smooth and quick

Speed range – best in its class

Handling – quick, precise with light brake pressure (we mean, really light, not just lighter)

Safety – solid as a rock at all speeds

Ground Handling – continuing the legacy of Force, taking it even
further, beyond the known boundaries. Just try it and be impressed

Flying – properly described – awesome!!!

Improved lift capacity – thanks to wing area and design – allowing for flying less powerful engine/lower RPM

Great fuel saving
Easy launch and handling SRS aided

Built-in passive safety – Automatic SRS

Diagonal rib structure

Tip steering for high speed operation

All metal parts Stainless Steel or Aluminium

Split A riser with built-in safe, huge speed range

APCO legendary standard double coated siliconised cloth – built to last

Butt holes

Heavy duty Superaramide ® lines

Swivels on brake handles

Integral built-in neodymium brake magnets

New color design – fresh and attractive
FORCE Performance Data
V-min
23 km/h
V-trim (-) / V-trim (0)
39-42 km/h
V-trim off (open)
53-55 km/h
V-max.
68+ km/h
Min Sink ( at optimum wing loading)
<1.2 m/s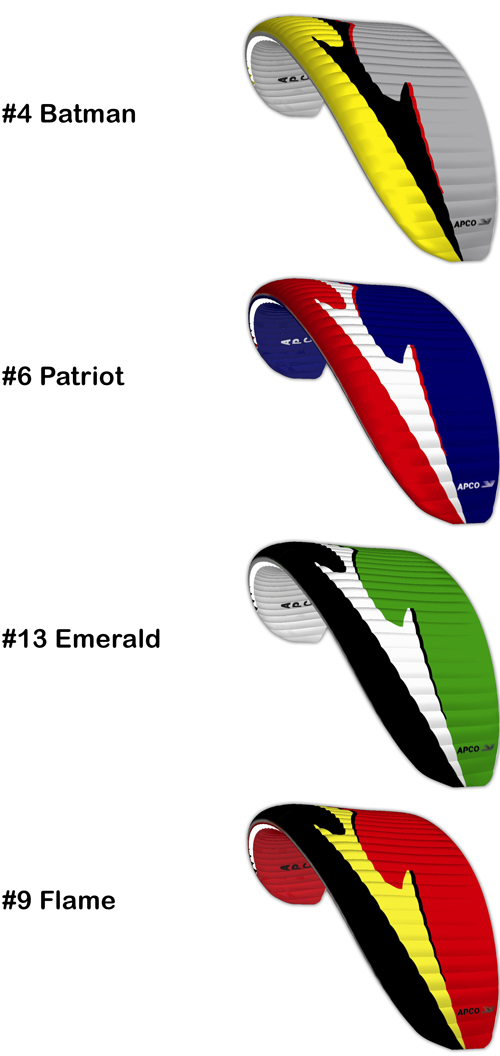 The glider is made from tear resistant Ripstop Nylon cloth, which is P.U. coated to zero porosity and then siliconized to give the fabric high resistance to the elements. Different cloth is used for the top, bottom and ribs due to their different functions. The lines are made of superaramid covered with a polyester sheath for protection against UV, wear and abrasion. The bottom section of the brake lines is made of polyester because of its better mechanical properties. The karabiners that attach the lines to the risers are made of stainless steel.
Blue Skies,
APCO Team